HAITI PROFILE
Haiti became the world's first black-led republic and the first independent Caribbean state when it threw off French colonial control and slavery in a series of wars in the early 19th century.
However, decades of poverty, environmental degradation, violence, instability and dictatorship have left it as the poorest nation in the Americas.
A mostly mountainous country with a tropical climate, Haiti's location, history and culture – once made it a potential tourist hot spot, but instability and violence, especially since the 1980s, have severely dented that prospect.
Haiti underwent dictatorship for decades. Hopes that the election in 1990 of Jean-Bertrand Aristide, a former priest, would herald a brighter future were dashed when he was overthrown by the military a short time later.
Economic sanctions were put on Haiti by the US and US-led military intervention. Haiti's fortunes did not pick up, with allegations of electoral irregularities, ongoing extra-judicial killings, torture and brutality.
A bloody rebellion, and pressure from the US and France, forced Mr Aristide out of the country in 2004. Since then, an elected leadership has taken over from an interim government and a UN stabilization. But Haiti is still plagued by violent confrontations between rival gangs and political groups and the UN has described the human rights situation as "catastrophic".
HAITI'S HISTORY OF MISERY
Haiti has have had more than its fair share of political upheaval, misrule, poverty and natural disasters. And, as has happened so often in the nation's past, just when the situation was getting better, a fresh catastrophe struck, writes Nick Caistor.
Until it was destroyed in the earthquake on, Haiti's presidential palace was the most beautiful building in the capital, Port-au-Prince.
Gleaming white, its imposing, harmonious structure was a symbol of the promise that has so often been dashed in this country of 10 million inhabitants.
The palace is situated on the Champ de Mars, the huge open square down near the port area of Port-au-Prince. This is the centre of the city, where all the main administrative and community buildings are clustered. Many of them, including the cathedral, the main hospital, and the UN peacekeeping headquarters are reported to have been crushed in the worst earthquake to hit the country in more than 200 years.
Hundreds may have died here, but the death toll is likely to be even higher in the nearby squalid slums such as Cite Soleil, where tens of thousands of the poorest Haitians live in wooden or tin shacks, with no running water, no sewage systems, and no electricity.
Many of these slum dwellers have been forced to come into Port-au-Prince because, if anything, conditions in the countryside are even harsher. Serious malnutrition, Aids, and other chronic diseases are widespread.
The city of Gonaives was devastated in 2008
Haiti occupies the mountainous western third of the island of Hispaniola. When the Europeans first arrived more than 500 years ago, they were amazed at how wooded the country was.
Now only some 3% of those original forests remain. The rest have been chopped down for lumber or for charcoal, which is still the most widely used fuel in the countryside.
It is this deforestation that increased the havoc caused by a series of storms in 2008 , when almost a thousand people were killed and up to a million were made homeless after four hurricanes struck around the important town of Gonaives in as many weeks.
In 2004, a tropical storm struck the northwest of the country. The historic port of Cap Haitien bore the brunt on that occasion, with an estimated 3,000 people killed.
In addition to these natural disasters, Haiti has suffered throughout its history from political turmoil and misrule.
Haiti got its first democratically elected leader after 'Baby Doc' was ousted
When 'Baby Doc' Duvalier was forced from power in 1986, it seemed as though the country might finally enjoy a period of democratic rule.
After several years of unrest, this new hope was symbolised by the election in 1990 of a young former Catholic priest, Jean-Bertrand Aristide.
But his period in office came to an end after only a few months, when army colonels seized power.
The democratic experience was cut short, several thousand people became victims of the new regime, and thousands more tried to flee the country on home-made rafts.
It was the huge influx of these boat people into the United States in 1994 which helped persuade President Bill Clinton that the time had come to kick out the colonels.
Once again, Jean-Bertrand Aristide returned to power, and a new, more promising political era seemed about to begin.
Under his rule, and that of his successor Rene Preval, and with the help of the United Nations and other international aid organisations, life improved a little, although Haiti remained the poorest country in the Western hemisphere, with average income of less than two dollars a day.
It was when Mr Aristide was elected president for a second term in 2001 that the political situation began to slip back into confusion and growing violence.
Refugees were often picked up off the coast of Miami in the early 1990s.
President Aristide was forced out of power early in 2004, after several months of increasing political turmoil. A UN peacekeeping force of 9,000 then occupied Haiti.
Donors had a hard time living up to their promises of aid.
Now, as has happened so often in Haiti's past, the fresh hopes have been extinguished.
It will take a massive effort from the United Nations and the international community simply to rescue the thousands of victims and clean up after the earthquake.
Speaking after the 2008 disasters, President Preval said that Haiti needed long-term help if it were not to be "left as always, truly alone, to face new catastrophes".
Across the Champ de Mars from the presidential palace in Port-au-Prince is -or was – a tall statue to the maroons, the runaway slaves who are the symbol of Haiti's fight for independence at the end of the 18th century.
Haitians will need the same spirit now if they are to overcome this latest blow to their nation.
The long history of troubled ties between Haiti and the US
President Jean-Bertrand Aristide accused the US of ousting him in 2004

When US President Barack Obama announced that one of the biggest relief efforts in US history would be heading for Haiti, he highlighted the close ties between the two nations.

"With just a few hundred miles of ocean between us and a long history that binds us together, Haitians are our neighbors in the Americas and here at home," he said.

Hundreds of thousands of Haitians have indeed become neighbors of Americans.

Some 420,000 live in the US legally, according to census figures. Estimates of the number of Haitians in the country illegally vary wildly, from some 30,000 to 125,000.

It is a sizeable diaspora which wants to see quick and decisive action from its adopted homeland.

Desperate to see aid getting through to friends and relatives, many expatriate Haitians have welcomed President Obama's decision to send up to 10,000 troops to help rescue efforts.

Historically though, US military deployments to Haiti have been controversial to say the least, and ties have often suffered.

Shared history

Both countries were born out of a struggle against European colonizers.

The US declared independence from Britain in 1776 – the first to do so in the Western Hemisphere – followed by Haiti, which broke away from France in 1804.

| | |
| --- | --- |
| | "Haiti is a public nuisance at our door"said, Alvey A Adee, US Assistant Secretary of State 1886-1924 |

But there the similarities end. While the American War of Independence was driven by a white elite unwilling to – among other things – continue paying taxes to its colonial masters, the Haitian revolution was led by a freed slave, Toussaint Louverture.

The existence of a nation of freed slaves to the south became an inspiration for slaves in the US, and a thorn in the side of many Southerners who relied on slavery for their economy.

The animosity of some of the Southern states towards Haiti soured relations between the two nations for decades and played a big part in delaying its official recognition by the US until 1862, 58 years after its independence.

But Haiti's geographical proximity to the US and its strategic location in the Caribbean sparked the interest of American administrations.

Strategic interest

In the 19th Century, it was eyed as the location for a potential naval base.

Toussaint L'Ouverture became an icon for the abolitionist movement

US leaders also feared foreign occupation of the island at a time when European powers were trying to expand their sphere of influence.

In 1868, President Andrew Johnson suggested the annexation of the whole island of Hispaniola – present-day Haiti and the Dominican Republic – to secure a US presence in the Caribbean.

His suggestion was not followed, but American warships were active in Haitian waters 17 times between 1862 – when the US finally recognized Haiti's independence – and 1915, when it occupied the country.

Assistant Secretary of State Alvey Adee summed up the US view of Haiti in 1888 when he called it "a public nuisance at our door".

Tumultuous history

In the following decades, Haiti would only become more of a headache to its big neighbor.

Between 1888 and 1915, no Haitian president completed his seven-year term.

Ten were killed or overthrown, including seven in the four years to the US invasion of 1915. Only one died of natural causes.

In 1914, President Woodrow Wilson took control of the Haitian National Bank by sending in marines, who removed $500,000 of its reserves "for safe-keeping" in New York.

The assassination of the Haitian president a year later finally prompted President Wilson to invade Haiti with the aim of protecting US assets and preventing the further strengthening of German influence in the region.

After failing to make the new Haitian legislature adopt a constitution which would allow foreign land ownership, the Wilson administration forced the legislature to dissolve in 1917. It would not meet again until 1929.

The US finally withdrew from Haiti in 1934 as part of President Franklin Roosevelt's "Good Neighbor Policy", which stressed co-operation and trade over military force to maintain stability in the Americas.

Duvalier era

Many Haitians fled to the US during the political repression under Francois "Papa Doc" Duvalier and his son Jean-Claude "Baby Doc" Duvalier.

At first, the US government welcomed the refugees, but as the numbers swelled and boatloads of Haitians arrived on the South Florida coast in the 1970s and 1980s, this attitude changed to a policy of intercepting boats at sea and returning those on board to Haiti.

After decades dominated by dictatorships and coups, democracy was restored in 1990 when Jean-Bertrand Aristide was elected in a popular vote.

The ousting of President Aristide by a military regime in 1991 led to a new wave of Haitians headed for the US.

Military deployments

Faced with increasing chaos just south of its shores and an ever-growing stream of refugees arriving on – and often sinking off – Florida's shores, President Bill Clinton sent a US-led intervention force to Haiti in 1994.

The Clinton Administration intervened to restore President Aristide to power

A last-minute deal brokered by former President Jimmy Carter allowed the troops to go ashore unopposed by the Haitian military and police.

Constitutional government was restored and Mr Aristide returned to power.

US troops left after two years – too soon, some experts argue, to ensure the stability of Haiti's democratic institutions.

Jean-Bertrand Aristide stayed in power until 1996, and was re-elected in 2000.

While he enjoyed the support of the Clinton administration during his first term of office, allegations of corruption and links to the drugs trade during President Aristide's second term made for a rocky relationship with Washington.

US forces returned to Haiti in 2004 to airlift President Aristide out of the country.

Mr. Aristide accused the US of forcing him out – an accusation the US rejected as "absurd".

With the crisis averted, US interest in Haiti lessened. A UN-led mission took over from US troops in June 2004 and continues to be present there.

'American leadership'

The election of President Obama and the nomination of Bill Clinton to the post of UN envoy to Haiti, combined with a period of relative political stability, led to a strengthening of US-Haitian ties.

President Obama said he would make the relief efforts in Haiti a priority

Bill Clinton and Secretary of State Hillary Clinton, who spent their honeymoon in Haiti, have long taken an interest in the country.

President Obama has enlisted their help, alongside that of former President George W Bush, to help drive fundraising for Haiti.

President Obama said that this was "one of those moments that calls out for American leadership".

This US intervention, he stressed, would be "for the sake of our common humanity".



Haiti Earthquake 2010
My question is why are we fund-raising oppose to supplying the funds? We supply funds for war. Why is humanitarian aid being turned away from needy people? Why are warehouses full of food instead of being distributed to starving people? Babies are dying from dehydration and malnutrition! And why would Obama choose men who clearly have a history of bad ties with Haiti? Men who clearly do not care about humanity are being put in a position of power over suffering people. An inquiring mind wants to know???? When I think of humanitarian aid, I'm sorry but I do not think of George Bush. He has proven himself not to care about humanity. He himself is a terrorist. Obama could have chosen many, many, many people for the job but he did not, he chose men who are responsible for destroying Haitian democracy. This makes no logical sense. What a slap in our face! If you ask me, the donations made will not make it to Haiti but will line the pockets of men of ill will. Clinton has a history of stealing donations and so does Bush. If Obama's idea of help is Clinton and Bush, I really have to question Obama's true intentions because I know he is a smart man. Who side is Obama really on? I do not believe ours but the oligarchs as he continues to follow in his predecessor shoes, George W. Bush aka Killa. They have been playing us for decades and this is just another one of their plans. What a shame, taking from the poor to give to the rich. Enough is Enough!
To this day Haiti is being denied aid. Aid is being turned away by our government. People are not even receiving medical care. Despite the worlds attempts to help Haiti, the aid is not getting through. Just as America turned away aid during Katrina, from CARICOM, the Caribbean Community, Médecins Sans Frontieres, Brazil, France, Italy and others, the same is being done here. We cannot stand by and watch our people suffer and die. We definitely cannot leave them in the hands of tyrants!


Time 'running out' for quake-hit Haiti orphans
By Andy Gallacher
BBC News, Port-au-Prince
Relief workers warn the rainy season is fast approaching
Billions of dollars in aid for Haiti are being pledged at a UN conference in New York, but the gesture is lost in the makeshift orphanages and camps near the capital Port-au-Prince.
In the barren windswept mountains a short drive from the capital Port-au-Prince, a tiny Haitian girl sings a hymn as she goes about her daily chores.
She, like many at the disaster recovery centre in Fond Parisien, only has one arm – but is incredibly lucky to be here.
The field hospital, run by the Harvard Humanitarian Initiative and the Love A Child Foundation, has been singled out as one of the best facilities of its kind in Haiti.
Haiti field hospital faces closure unless it gets cash donations
Patients receive a level of care few would believe possible in such a rudimentary place; there are advanced prosthetic limbs, an operating theatre, and doctors from across the world, each experts in their own field.
'Bleak future'
Tiffany Fontonot has just returned to the hospital from the United States, still haunted by what she saw in Haiti in those first few days after January's earthquake.
Like all the specialists who volunteer their time, she uses her own money to travel to Haiti, even paying for food and accommodation at the camp.
The physical therapist from Louisiana said: "I got so excited to come back. Such a hopeful and grateful people like you couldn't do enough for them.
| | |
| --- | --- |
| | "Some men, very bad and they sexually abuse children now in the camps everywhere in Port-au-Prince"Pastor Jean Guillaume |
"Coming back and seeing everybody just so progressed from the first time, I go home in peace. It's like 'OK they're going to be good now'."
But the outlook for the facility is dire. Despite promises of funding and visits from various officials, no money has emerged.
Professor Gregg Greenough, who runs the camp, is afraid to tell his patients they may soon be told to leave.
"I cannot meet payroll, and I won't be able to keep the volunteers, and these are highly specialized people," he said.
"We will close and these patients will have nowhere to go. There is no other outlet for them."
When asked how that makes him feel, his answer is blunt. "Sick, really."
Close by, at another site, a group of children orphaned by the earthquake are setting up camp in a field next to a stream, using tents donated from the US.
January's quake left more than a million people homeless
Haitian pastor Jean Guillaume, who has taken many orphans into his home in Port-au-Prince, says his pleas for funding have fallen on deaf ears.
But he, like many others, was determined to get by regardless and wanted to remove the children from the capital as soon as possible.
The city, with its makeshifts camps and lack of security, has become a dangerous place for the young, he says.
"Some men, very bad and they sexually abuse children now in the camps everywhere in Port-au-Prince. That's why we came here with them to be away from that," the pastor said.
By the time the camp is established, there will be about 200 girls and boys living in the tents.
Mr Guillaume has plans to build some kind of temporary school house, but without money the children's future remains bleak.
The people of Haiti know that millions of dollars have been raised to help them and that billions more are being pledged.
But they feel abandoned and forgotten about. In the streets of Port-au-Prince there are signs that aid money is doing some good, but it is not nearly enough and time is running out.
The rainy season is fast approaching and there are still more than a million people sleeping on basketball courts and in riverbeds and hospital car parks beneath hastily constructed shelters and donated tents.
Those that realize leaders from across the world are discussing their fate in New York are skeptical – and they have good reason to be.
Article by the lovely Cynthia McKinney
(Cynthia McKinney provides wonderful insight surrounding Haiti Relief) http://blackpolitics1.wordpress.com/2010/01/19/cynthia-mckinney-speaks-on-haiti/
President Obama's response to the tragedy in Haiti has been robust in military deployment and puny in what the Haitians need most: food; first responders and their specialized equipment; doctors and medical facilities and equipment; and engineers, heavy equipment, and heavy movers. Sadly, President Obama is dispatching Presidents Bush and Clinton, and thousands of Marines and U.S. soldiers. By contrast, Cuba has over 400 doctors on the ground and is sending in more; Cubans, Argentinians, Icelanders, Nicaraguans, Venezuelans, and many others are already on the ground working–saving lives and treating the injured. Senegal has offered land to Haitians willing to relocate to Africa.
The United States, on the day after the tragedy struck, confirmed that an entire Marine Expeditionary Force was being considered "to help restore order," when the "disorder" had been caused by an earthquake striking Haiti; not since 1751, 1770, 1842, 1860, and 1887 had Haiti experienced an earthquake. But, I remember the bogus reports of chaos and violence the led to the deployment of military assets, including Blackwater, in New Orleans in the aftermath of Hurricane Katrina. One Katrina survivor noted that the people needed food and shelter and the U.S. government sent men with guns. Much to my disquiet, it seems, here we go again. From the very beginning, U.S. assistance to Haiti has looked to me more like an invasion than a humanitarian relief operation.
On Day Two of the tragedy, a C-130 plane with a military assessment team landed in Haiti, with the rest of the team expected to land soon thereafter. The stated purpose of this team was to determine what military resources were needed.
An Air Force special operations team was also expected to land to provide air traffic control. Now, the reports are that the U.S. is not allowing assistance in, shades of Hurricane Katrina, all over again.
On President Obama's orders military aircraft "flew over the island, mapping the destruction." So, the first U.S. contribution to the humanitarian relief needed in Haiti were reconnaissance drones whose staffing are more accustomed to looking for hidden weapon sites and surface-to-air missile batteries than wrecked infrastructure. The scope of the U.S. response soon became clear: aircraft carrer, Marine transport ship, four C-140 airlifts, and evacuations to Guantanamo. By the end of Day Two, according to the Washington Post report, the United States had evacuated to Guantanamo Bay about eight [8] severely injured patients, in addition to U.S. Embassy staffers, who had been "designated as priorities by the U.S. Ambassador and his staff."
On Day Three we learned that other U.S. ships, including destroyers, were moving toward Haiti. Interestingly, the Washington Post reported that the standing task force that coordinates the U.S. response to mass migration events from Cuba or Haiti was monitoring events, but had not yet ramped up its operations. That tidbit was interesting in and of itself, that those two countries are attended to by a standing task force, but the treatment of their nationals is vastly different, with Cubans being awarded immediate acceptance from the U.S. government, and by contrast, internment for Haitian nationals.
U.S. Coast Guard Rear Admiral James Watson IV reassured Americans, "Our focus right now is to prevent that, and we are going to work with the Defense Department, the State Department, FEMA and all the agencies of the federal government to minimize the risk of Haitians who want to flee their country," Watson said. "We want to provide them those relief supplies so they can live in Haiti."
By the end of Day Four, the U.S. reportedly had evacuated over 800 U.S. nationals.
For those of us who have been following events in Haiti before the tragic earthquake, it is worth noting that several items have caused deep concern:
The continued exile of Haiti's democratically-elected and well-loved, yet twice-removed former priest, President Jean-Bertrand Aristide;
The unexplained continued occupation of the country by United Nations troops who have killed innocent Haitians and are hardly there for "security" (I've personally seen them on the roads that only lead to Haiti's sparsely-populated areas teeming with beautiful beaches);
3. U.S. construction of its fifth-largest embassy in the world in Port-au-Prince, Haiti;
4. mining and port licenses and contracts, including the privatization of Haiti's deep water ports, because certain off-shore oil and transshipment arrangements would not be possible inside the U.S. for environmental and other considerations; and
5. Extensive foreign NGO presence in Haiti that could be rendered unnecessary if, instead, appropriate U.S. and other government policy allowed the Haitian people some modicum of political and economic self-determination.
"Therefore, we note here the writings of Ms. Marguerite Laurent, whom I met in her capacity as attorney for ousted President of Haiti Jean-Bertrand Aristide. Ms. Laurent reminds us of Haiti's offshore oil and other mineral riches and recent revivial of an old idea to use Haiti and an oil refinery to be built there as a transshipment terminal for U.S. supertankers. Ms. Laurent, also known as Ezili Danto of the Haitian Lawyers Leadership Network (HLLN), writes:
There is evidence that the United States found oil in Haiti decades ago and due to the geopolitical circumstances and big business interests of that era made the decision to keep Haitian oil in reserve for when Middle Eastern oil had dried up. This is detailed by Dr. Georges Michel in an article dated March 27, 2004 outlining the history of oil explorations and oil reserves in Haiti and in the research of Dr. Ginette and Daniel Mathurin.
"There is also good evidence that these very same big US oil companies and their inter-related monopolies of engineering and defense contractors made plans, decades ago, to use Haiti's deep water ports either for oil refineries or to develop oil tank farm sites or depots where crude oil could be stored and later transferred to small tankers to serve U.S. and Caribbean ports. This is detailed in a paper about the Dunn Plantation at Fort Liberte in Haiti.
"Ezili's HLLN underlines these two papers on Haiti's oil resources and the works of Dr. Ginette and Daniel Mathurin in order to provide a view one will not find in the mainstream media nor anywhere else as to the economic and strategic reasons the US has constructed its fifth largest embassy in the world – fifth only besides the US embassy in China, Iraq, Iran and Germany – in tiny Haiti, post the 2004 Haiti Bush regime change."
Unfortunately, before the tragedy struck, and despite pleading to the Administration by Haiti activists inside the United States, President Obama failed to stop the deportation of Haitians inside the United States and failed to grant TPS, temporary protected status, to Haitians inside the U.S. in peril of being deported due to visa expirations. That was corrected on Day Three of Haiti's earthquake tragedy with the January 15, 2010 announcement that Haiti would join Honduras, Nicaragua, Somalia, El Salvador, and Sudan as a country granted TPS by the Secretary of Homeland Security.
President Obama's appointment of President Bush to the Haiti relief effort is a swift left jab to the face, in my opinion. After President Bush's performance in the aftermath of Hurricane Katrina and the fact that still today, Hurricane Katrina survivors who want to return still have not been provided a way back home, the appointment might augur well for fundraising activities, but I doubt that it bodes well for the Haitian people. After all, the coup against and the kidnapping of President Aristide occurred under the watch of a Bush Presidency.
Finally, those with an appreciation of French literature know that among France's most beloved authors are Alexandre Dumas, son of a Haitian slave, and Victor Hugo who wrote: "Haiti est une lumiere." [Haiti is a light.] Indeed, Haiti for millions is a light: light into the methodology and evil of slavery; light into a successful slave rebellion, light into nationhood and notions of liberty, the rights of man, and of human dignity. Haiti is a light. And an example that makes the enemies of black liberation tremble. It is precisely because of Haiti's light into the evil genius of some individuals who wield power over others and man's ability, through unity and purpose, to overcome that evil, that some segments of the world have been at war with Haiti ever since 1804, the year of Haiti's creation as a Republic.
I'm not surprised at "Reverend" Pat Robertson's racist vitriol. Robertson's comments mirror, exactly, statements made by Napoleon's Cabinet when the Haitians defeated them. But in 2010, Robertson's statements reveal much more: Haitians are not the only ones who know their importance to the struggle against hatred, imperialism, and European domination.
This pesky, persistent, stubbornly non-Western, proudly African people of this piece of land that we call Haiti know their history and they know that they militarily defeated the ruling world empire of the day, Napoleon's France, and the global elite at that time who supported him. They know that they defeated the armies of England and Spain.
Haitians know that they used their status as a free state to help liberate Latin Americans from Spain, by funding and fighting alongside Simon Bolivar; their example inspired their still-enslaved African brothers and sisters on the American mainland; and before Haitians were even free, they fought against the British inside the U.S. during its war of independence and won a decisive battle in Savannah, Georgia, where I have visited the statue commemorating that victory.
Haitians know that France imposed reparations on them for being free, and Haiti paid them in full, but that President Aristide called for France to give that money back ($21 billion in 2003 dollars).
Haitians know that their "brother," then-Secretary of State Colin Powell lied to the world upon the kidnapping and second ouster of their President. (Sadly, it wouldn't be the last time that Secretary of State Colin Powell would lie to the world.) Haitians know, all-too-well, that high-ranking blacks in the United States are capable of helping them and of betraying them.
Haitians know, too, that the United States has installed its political proxies and even its own soldiers onto Haitian soil when the U.S. felt it was necessary. All in an effort to control the indomitable Haitian spirit that directs much-needed light to the rest of the oppressed world.
While the tears of the people of Haiti swell in my own eyes, and I remember their tremendous capacity for love, my broken heart and wet eyes don't dampen my ability to understand the grave danger that now faces my friends in Haiti.
I shudder to think that the "rollback" policies believed in by some foreign policy advisors to President Obama could use a prolonged U.S. military presence in Haiti as a springboard for rollback of areas in Latin America that have liberated themselves from U.S. neo-colonial domination. I would hate to think that this would even be attempted under the Presidency of Barack Obama. All of us must have our eyes wide open on Haiti and other parts of the world now dripping in blood as a result of the relentless onward march of the U.S. military machine.
So, on this remembrance of the birth of Dr. Martin Luther King, Jr., I note that it was the U.S. government's own illegal Operation Lantern Spike that snuffed out the promise and light of Dr. Martin Luther King, Jr. Every plane of humanitarian assistance that is turned away by the U.S. military (so far from CARICOM, the Caribbean Community, Médecins Sans Frontieres, Brazil, France, Italy, and even the U.S. Red Cross)–as was done in the wake of Hurricane Katrina–and the expected arrival on this very day of up to 10,000 U.S. troops, are lasting reminders of the existential threat that now looms over the valiant, proud people and the Republic of Haiti.
Although millions have come to Haiti's aid, Haiti has not received the Worlds Aid due to the UN and a Haitian government controlled by the U.S. Disturbingly, Haiti has not been allowed to set up its own democracy for decades.
If you want to donate please send your funds to Wyclef's organization, YeleHaiti, to be sure the Haitian people receive the given aid.
Planes of humanitarian assistance has been turned away by the U.S. military from supporters all over the globe as was done in the wake of Hurricane Katrina. Instead of humanitarian aid being allowed to come through during Katrina, our government purposely turned all aid away from the people just as they are doing now with Haiti. As with Katrina instead of food and water the Haitian people are being treated like criminals surrounded by thousands of men with guns who pose a continuous threat to proud people and the Republic of Haiti.
With disaster comes money. Bush and Clinton raised money for Katrina survivors but the survivors never received that money. Clinton is notorious for charitable organizations, his cash cow. Please do not donate your money to the Clinton/Bush Fund. Please send your money to Wyclef's organization, YeleHaiti, to ensure Haiti receives the aid they need because right now the aid is not getting through thanks to our government. Please visit the article above, Time 'running out' for quake-hit Haiti orphans. This article exposes the lack of aid being received despite of the world's efforts and shows us that aid is not getting through.
William J. Clinton Foundation reports to have raised over 23 million dollars so the question is, why are the people of Haiti without needed medical care, food and water??????? Men of ill will lining their pockets is what it is called. We must wake up to the fact that these men do not care about us. You can personally view this fact sheet by visiting www.clintonfoundation.org
Little help for Haitians stuck living in tents
Some 1.3 million Haitians remain displaced 10 months after a major destruction from an earthquake and many say life in their tent communities remains harsh and no immediate improvement seems likely.
By Haiti Grassroots Watch
Rosie Benjamin is just one of over 1.3 million people living in Haiti's 1,354 squalid refugee camps. She and 1,200 others are jammed into 300 tents and plastic tarp shacks on a soccer field in Grand Goave.
About 70 percent of the resident of Haiti's refugee camps here are on their own. Apart from water deliveries, they get nothing from the government and the massive humanitarian apparatus on the ground. No food. No jobs. And no news about their future.
"We went to City Hall, we didn't learn anything. We went to Terre des Hommes, nothing," Ms. Benjamin said. "So far we haven't gotten anything. Nothing. We are sitting here and we have no idea what anyone is thinking."
Ms. Benjamin and her neighbors live on money from relatives overseas, share what food they have, and every now and then a non-governmental organization (NGO) drops off some bulgar wheat and vegetable oil, but that's about it. Some of the children-many of whom will likely not go to school this year-even have the orange-tinted hair sign of malnutrition.
Asked about these and other conditions, Deborah Hyde, a member of the UN "Shelter Cluster"-a UN-mandated management team tasked with trying to coordinate the NGOs working on the shelter issue-said that in March, most food distributions stopped because, she said, the Haitian government requested that the NGOs cease the handouts.
Besides, she added, "Malnutrition is unfortunately something that has been here since the 1980s."
Ms. Hyde said that she felt some camp residents actually had a place to live, or could find one. Instead, they stay because, she said, "to be perfectly frank, they are afraid they will miss a (food or aid) distribution."
But Ms. Benjamin and her neighbors say nothing could be further from the truth. Some camp residents are homeowners but they do not have the means to destroy their hulk of a home, truck away the rubble, and rebuild. Others are renters. Ms. Benjamin, like almost two-thirds of Haiti's homeless, rented her home. That means that she can't move her family back home until her landlord makes repairs.
Ms. Benjamin said nobody is in her camp by choice. And no wonder-recent reports document increasing expulsions, gang activity and sexual exploitation, unsanitary conditions and putrid, inadequate latrines.
And so, despite the massive flow of donations-from citizens and governments-to humanitarian agencies, nine months after the catastrophic earthquake which killed some 300,000 people and devastated the capital other major cities, most of Haiti's "internally displaced people" are exactly where they were on Jan. 13: crammed into cardboard, canvas and plastic shantytowns, exposed to hot sun and to the frequent downpours and storms of Haiti's infamous "rainy season."
In September, a storm touched down in the capital Port-au-Prince, killing six people and destroying 8,000 tents.
The apparent stagnation of resettlement efforts has led camp residents like Ms. Benjamin to assume there is no plan for the internal refugees. But there is.
A three-week investigation by Ayiti Kale Je/Haiti Grassroots Watch, unearthed one. Unfortunately for Ms. Benjamin and her neighbors, however, it is a plan that is unlikely to succeed.
Crafted by UN agencies and the NGO's, the plan has three options:
Return homeless to their neighborhoods of origin, but into better-built and better zoned houses;

Convince some to move to the countryside;

Put the rest in new housing developments on new land.
On paper-Haiti Grassroots Watch obtained the Oct. 5 draft of the "Strategy of Return and Resettlement," translated from French-the plan seems sound. Put families into safe "transitional shelter" or T-Shelter wooden or plastic houses while more permanent, earthquake-safe structures go up in properly planned rebuilt or new neighborhoods.
But there are many challenges, including the fact that so far, the government hasn't officially bought into it.
Shelter Cluster Coordinator Gehard Tauscher said the lack of coordination and participa other 165,000 families? And where will the shelters be put?
That's not an insurmountable challenge. NGOs can try to negotiate leases for families like Ms. Benjamin's. But who will pay the lease?
That leads to another Haiti's "land problem." Haiti's land tenure system is "a bordello…. a complete disorder that has been going on for 200 years," according to Bernard Etheart, director of the National Institute of Agrarian Reform.
Ever since Haiti's independence, dictators have stolen, sold or given land to their families and allies. Many "owners" do not have titles to prove their ownership, while some parcels have two or three "owners," all with "legal" papers.
Added to the land issue is another roadblock-quite literally. There are an estimated 20 to 30 million cubic tons of rubble around the capital and Haiti's smaller affected cities that experts say will take years to clear.
In its three-article series, Haiti Grassroots Watch ran through the plan and pointed out the challenges, concluding that the problem of Haiti's 1.3 million homeless can't be dealt with until the underlying structural issues are tackled.
Dr. Paul Farmer, the UN Deputy Special Envoy for Haiti and also co-founder of Partners in Health, put it this way: "What happened on Jan. 12 is aptly described as an 'acute on chronic' event."
Sanon Renel of FRAKKA, the Front for Reflection and Action on the Housing Issue, a coalition of camp committees and human rights groups that advocates for the right to housing, echoed Mr. Farmer. "The NGOs don't have a solution to the country's problems. We need more than a short-term solution. We need another kind of state a state that serves the majority," he said.
In the meantime, camp dwellers are getting impatient. Mr. Benjamin's neighbor, 21 year old Marie Lucie Martel, said she was tired of seeing the NGO's "making tons of money, driving expensive rental cars."
"I have a message for the government and all the NGOs. If they don't take care of us, we will revolt. They won't be able to drive down this highway. They will call us violent-they will call us all kinds of names. But we are being forced to do this, because 'hungry dogs don't play around," she warned.
Red Cross must do more with aid dollars, Haitian-Americans, coalition demand demand
By La Risa Lynch -Contributing Writer- | Last updated: Sep 1, 2010 – 2:55:44 PM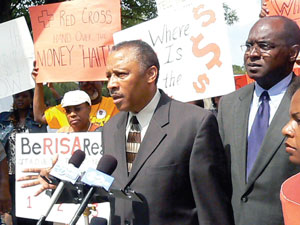 Lionel Jean Baptiste of the Haitian Congress to Fortify Haiti addresses media as supporters look on.
Photos: LaRisa Lynch
CHICAGO (FinalCall.com) – A coalition of Haitian and Haitian-American activists are questioning the American Red Cross's strategy is dispersing millions of dollars in relief aid to earthquake ravaged Haiti.
Seven months after the seven magnitude quake struck the island nation, the Red Cross has spent only one-third of the half a billion dollars it collected in donated aid.
That penny-pinching, the coalition claims, has forced Haiti's one million homeless to linger in unsafe, unsanitary makeshift tent cities. The coalition criticized the lack of permanent housing for earthquake victims.
"When it rains and the hurricane comes, these families are sitting in mud," said Lionel Jean-Baptiste, of the Haitian Congress to Fortify Haiti. "For there to still be 1.5 million folks under tents made of tarps and cloths, is a reflection that the urgency is not being addressed."
Of the $468 million the Red Cross has collected for Haiti relief efforts, it has spent $148 million. According to American Red Cross documents, the bulk of money has gone to shelter (35 percent) and food and emergency services (38 percent). The Red Cross could not provide a break down in actual money spent in these areas.
"With the $468 million they have collected a lot more should be done," Mr. Jean-Baptiste said. "We believe the Red Cross needs to be held accountable."
The group is urging the American Red Cross to build durable emergency housing and partner with Haitian-led and Haitian-American grassroots organizations to better address the earthquake victims' needs. The group also seeks a detailed account of funds raised, allocated and spent on Haiti relief efforts.
Historically, Haitian activists have questioned how much non-government organizations (NGOs), such as the Red Cross, have spent on administrative costs versus actual relief, Mr. Jean-Baptiste said.
Red Cross, he added, is the largest recipient of money from the international community without demand for transparency. They escape scrutiny, he said, while "Haitian leadership has always been seen as corrupt."
The coalition points to the poor response the Red Cross and other aid organizations gave during Hurricane Katrina and September 11, where money for victims was misappropriated as justification for their concerns.
Hurricane Katrina is remembered not just for the devastation the flood waters caused, but for the failure of government and relief organizations, such as the Red Cross to meet basic human needs, said Toussaint Losier, of Rising in Solidarity with Ayiti.
Mr. Losier noted people were herded into the New Orleans Superdome and convention center. Then put on buses and blindly shipped to different parts of the country. These decisions, Mr. Losier contends, were made without including evacuees in the decision-making process.
Excluding people whether it be Haitians or evacuees from the decision-making process of rebuilding "their own communities distances people even further," Mr. Losier added.
"There is a parallel to that and what we are seeing in Haiti right now," he explained.
The call for accountability is not isolated to the Red Cross nor is the coalition trying to make the agency the enemy, Mr. Jean-Baptiste said. There are 10,000 NGOs on the ground in Haiti, with little results to show for it. This call for accountability hopes to stress to the American people the dire needs facing Haitians, he added.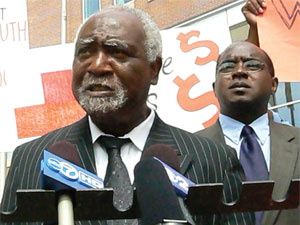 Congressman Danny K. Davis addresses press with UAO's Executive Director Alie Kabba in background.
State Senator Kwame Raoul, who is of Haitian decent, echoed the coalition's concerns. Millions of dollars poured into the Red Cross where people believed their money was going to relief efforts not administrative costs, he said.
"When somebody writes a check for emergency relief, they expect that money is going to be spent on emergency relief," Mr. Raoul said. "I think that is why people are asking for accountability."
Rep. Danny K. Davis, an Illinois Democrat, understands that distributing resources in the midst of a disaster is daunting. But he noted decisions should be made "expeditiously as possible" to give aid to those impacted the most.
A spokesperson for the American Red Cross of Greater Chicago said the agency is being dutiful in how it spends resources to prevent fraud.
"The fact that we spent only a third of the money that has been donated is great … because we are doing it wisely. We are not spending it as fast as we can," Martha Carlos, senior manager of marketing and communication, said.
The goal, she added, is sustainability. Instead of providing someone with a bottle of water, the agency wants to provide water treatment systems and other services for the long term, Ms. Carlos explained.
The biggest challenge the agency faces to building permanent structures is securing land. Ms. Carlos said there is no clear way to determine land ownership in order to build housing on private land. Additionally, land is still not cleared of rubble hampering efforts to build housing for 150,000 displaced Haitians.
"In order to build permanent structures, we need permanent land," she said.
Rebuilding Haiti is an arduous task—something the Red Cross and other international relief agencies cannot do alone. Recognizing that, agency officials said they are working with small nonprofits on the ground in Haiti.
The Red Cross said it provided $3.8 million to Partners in Health, a Haitian-led organization that operates a hospital on the island nation. The Haiti Red Cross is staffed by Haitians, according to the agency spokesperson.
Ms. Carlos noted that officials at the Red Cross national headquarters have worked to identify smaller Haitian groups in Haiti and throughout the Diaspora "to figure out the best way to efficiently help."
However, the Chicago-based Haitian Congress to Fortify Haiti reached out to the Red Cross offering supplies and services, but was flatly rejected.
Executive director Aline Lauture said her organization "had loads of volunteers"—doctors, nurses and technicians wanting to accompany the Red Cross to Haiti.
"But we were told that they were not taking volunteers outside of the Red Cross," said Ms. Lauture, who speaks both French and Haiti's native tongue Creole.
Ms. Lauture just returned from her second visit to the country on Aug. 7. Haiti's needs are great, but shelter is paramount, she said. Camps are jammed with upwards 2,500 people. These tent cities are inadequate for people recovering from traumatic wounds such as amputation. There has been talk of placing families in shipping containers, she added.
"That is not good," Ms. Lauture said.
Alia Kabba, executive director of the United African Organization, also stressed the urgency for the Red Cross to partner with and release funds to Haitian-led and Haitian-American grassroots organizations. The UAO is a coalition of several African national organizations.
Grassroots organizations will be the ones left behind to rebuild their nation long after America's attention span has moved on to other issues, said Mr. Kabba.
"History has taught us that no meaningful progress will take place without the active engagement of Haitians in the reconstruction efforts," Mr. Kabba said.
Some progress has been made in partnering with Haitian groups, Mr. Losier contends. His group has been pressing these issues since March. The group will continue to monitor the Red Cross and connect with other organizations to see if the Red Cross is holding up its end of the bargain.
"But they haven't made progress in increasing the provision of housing for people and for being transparent in terms of the funds they are spending on administrative overhead," Mr. Losier said.
Still vulnerable Haiti needs Black America's support
By FinalCall.com News | Last updated: Oct 28, 2010 – 9:06:10 AM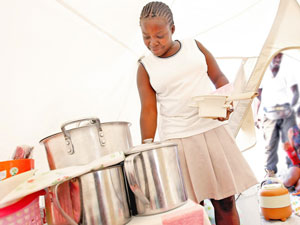 (FinalCall.com) – Recent news from Haiti hasn't been good: Rains brought floods and landslides that killed 12 people and left others missing in October in Port-au-Prince and residents said other unreported floods had also cost lives.
A cholera epidemic was reported that left some 300 people dead at Final Call press time and thousands suffering. Fears of widespread disease have haunted Haiti since the devastating earthquake that crippled Port-au-Prince and destroyed much of the capital in January. Cholera, a bacterial infection spread through contaminated water, can be fatal. Its victims suffer severe diarrhea and vomiting which can result in dehydration and death within hours.
Then there were clashes reported Oct. 15 between UN troops and Haitians protesting conditions in the country and upset about elections planned for Nov. 28.
These incidents and conditions were observed in Haiti during an October visit and factfinding delegation, which included The Final Call newspaper.
In interviews with Haitians living in a tent community not far from the destroyed National Palace residents complained bitterly about the lack of help received from non-profits and their government.
They complained of hunger, abuses by police and a tap that delivered water that is unfit to drink.
Some 10 months after the earthquake, some 1.3 million Haitians remain displaced—or to use a less fancy term, they are still homeless. The lucky live in tents where the Caribbean sun and heat can be unbearable, while drenching rain can nearly collapse tents. Residents poke tent roofs with sticks to keep water from weighing down their homes.
With the rain water comes leaks and soaked clothes, shoes, feet, misery and the chance for the spreading of disease. For those with no tents and living in even flimsier tents and tarps, it means getting drenched and trapped in mud.
At the same time, there are charges that Haitian women and girls are suffering from rape while others are forced into prostitution and are victims of sex trafficking. There have also been cases in which children, innocent, defenseless children, have been sexually abused and exploited.
Despite billions pledged by the international community and raised by nonprofits and so-called relief groups, the Haitian people suffer and their anger and frustration grows.
Though Haitians are reeling and struggling to survive, they are not stupid and readily point out how relief and charity workers live well in hotels and housing, driving expensive cars and drinking pristine exotic water. Even the Korean Red Cross has experienced a scandal over misspending of funds, while Blacks, Haitian Americans and Africans have been demanding that the American Red Cross disclose its spending for Haiti and show donors where the money went—and explain where and why other funds are being withheld.
Haitians are rightly angry at having money raised in their names and seeing little or none of it and they are disgusted with their own government. In interviews, Haitians angrily denounced their government for inaction, slowness, incompetency and pettiness.
"It's sad to say that nine months after the earthquake I have not seen that much done for people that are homeless," said Raymond Joseph, former Haitian ambassador to the United States, in an interview with The Final Call and two other Black journalists at the Le Plaza Hotel in Port-au-Prince. "It is a shame to see that people are still living in tents nine months after the earthquake," continued Mr. Joseph, who was disqualified from running for president in his country—as was his nephew, Wyclef Jean, the Haitian-born activist and hip hop artist.
In response to a question from a journalist, the onetime diplomat also said Red Cross money raised for "Haitian relief" should be accounted for.
Coordination of effort and unity remain problems, he continued, noting that Haiti remains known as the "Republic of NGOs, we have nongovernmental organizations all over the place and we don't know what they are doing. We need to work together."
Former ambassador Joseph believes elections should be postponed until the country is on better footing. He plans to stay in Haiti and act as a "gadfly" to hold political leaders accountable.
Between the failures of a government with too few resources and a government left decapitated by the destruction of offices and ministries, to health hazards, homelessness, anger and often volatile politics, the first Black republic remains in a crisis.
But who truly cares about the crisis in Haiti and who truly cares about the loss of lives and suffering of a proud nation of Black people?
If no one else cares, Black America should care. As Ron Daniels, of the Haiti Support Project, often notes it was Haiti that gave Blacks dignity when we were enslaved and it was Haiti that shook the worldwide slave economy by throwing off the shackles of her French oppressors. America benefited as a financially stressed Napoleon, battling with an uprising in his empire's richest colony, entered into the Louisiana Purchase to refill coffers depleted by the war with Haiti.
Haitians also fought in the Revolutionary War and her original constitution granted citizenship to any Black person who landed on her shores.
Frederick Douglass was a champion for Haiti and lauded her as a symbol of pride from defeating her former masters. So the connections between Black America and Haiti run deep. It is time now to connect with Haitian-Americans to lobby for and lead the proper reconstruction and rebuilding of Haiti.
It is not enough for the U.S. to send a few dollars in aid after helping to force Haiti to pay billions in reparations to France after independence, after blockading the country for 60 years, occupying the country and helping to establish an elite that still rules and supporting brutal dictators. America is morally bound to do more to help Haiti, but morality is not enough. It will take an organized, vigilant, constant and spirited effort to defend Haiti and her interests but it must be done. Otherwise Haiti will continue to suffer and continue to be misused and if we allow that to happen, we have no one to blame but ourselves—and history will mark our record of ignoble failure.
But if we rise and act in accord with the time, our children and children's children will salute us as those who united with their brothers and sisters and established a new reality. Nothing can stop us if we come together—or as the motto on the Haitian flag reminds us: In unity there is strength.
Haiti Cholera
The UN has not been a friend but an enemy to the Haitian people and it shows as the Haitian people protest the UN in an attempt to stand up for their rights. Proper aid has not been given to the Haitian people in fact they have fell victim to a government entity that has done nothing but caused problems and pose a consistent threat. Haitians are tired of being abused by UN so-called peace keepers and puppet governments that do not have their best interest at heart. The U.S. may fool us but you cannot fool the people who are experiencing terror by the hands of the government.
~
3 Comments to Haiti
That addresses several of my concerns actually.

Nyvaeh on November 7th, 2011

I believe you have noted some very interesting details , appreciate it for the post.

Jeanmarie Hartgraves on December 22nd, 2011

Now and then I am going to stumble across a write-up like this and I am going to recall that there really are nevertheless interesting pages over a web. ^_^. Thanks.

garmin 1490t keeps rebooting on June 16th, 2012
Leave a comment